So my friends, it has been a while. As I mentioned on my vlog, after releasing a new song every week for three years, I was in need of a break and decided to take the month of January off. But now I'm back with a brand new song.
"Don't take me for a fool" is a song about a subject that has unfortunately become a regular occurrence in our society. It is a song about a family getting evicted from their home, as due to the growing interest rates the payments just had become too much to bare. From a banks perspective, they are collecting what's owed to them. But on the other side there are people losing their home.
The real life game of monopoly, that is the property market, there are casualties everyday. It is highly regulated when it comes to paying back your loan and there is very little room for compassion. In the song the father of the family though finds it hard to accept and decides to take matters in his own hands.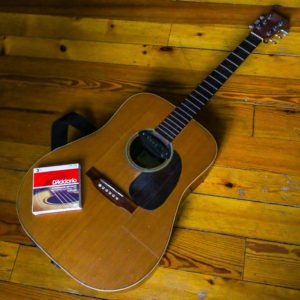 Let me also geek out about guitars here for a bit.  This song was recorded on my trusty old Musima, which some of you know, is in a dire need of a good service… It has few cracks, it has more knocks and dings I'd like to admit, the frets are in bits, the nut and the saddle needs work and most of all, the pickup system on it has never been compatible with the But it still sounds phenomenal! It is the kind of guitar that you can really lean on hard and it delivers. On this track you can hear the good and the bad 😉 Due to the fact that this guitar has a cedar top, I am hoping to reduce its work load very soon and get it properly serviced. I'll be looking into its replacement guitar, and hopefully I get to share some of the process with your guys as well.
As always, this weeks track is up on my Bandcamp page HERE, where you can download it for free 🙂 I also recorded a live video of the song, which you can check out HERE.
It feels good to be back!
J.P.
The author J.P. Kallio is a Singer-songwriter and a daily vlogger
To get EIGHT of his songs for free go HERE